Enlarged picture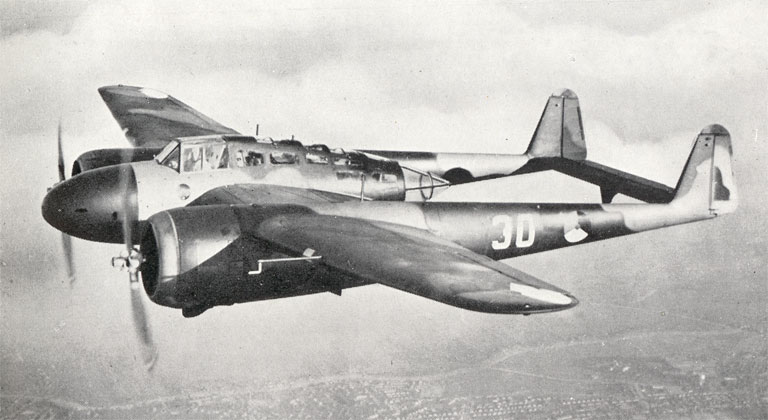 Fokker G-1 fighter-cruiser
The dual engine and dual boom Fokker G-1 fighter cruiser with its eight nose-machineguns a much feared opponent.

This Fokker product got quite some international attention on the 1936 Paris aeroplane show. Its design caught the eye as well as its quite formidable nose-battery. On the other hand the airplane may have been highly modern in 1936, by the time it was 1940 it was already underpowered. The topspeed of 475 km/hr was already about 75 km/hr below the fastest single engine fighters in the world, like the Bf-109, Spitfire and Dewoitine. Yet, as a fighter-cruiser, it was still a very capable plane, which it would proof in May 1940 with a more than positive air-combat score. Particularly the Dutch 3rd squadron operating from Waalhaven saw eight G-1's score 13 confirmed and another 3 probable kills against two own air-combat losses.

Unfortunately, the Dutch had only about two dozen of these fighters operational when war broke out. Another 24 were undergoing modifications and not operational. Another unfortunate fate awaited the 4th Squadron, stationed at Bergen AFB, which was the only Dutch squadron being caught on the ground during the German first strike. It would lead to a loss of 8 G-1's of which 5 proved total write offs.
Category 13 May / Armament and equipment (69 images)