Enlarged picture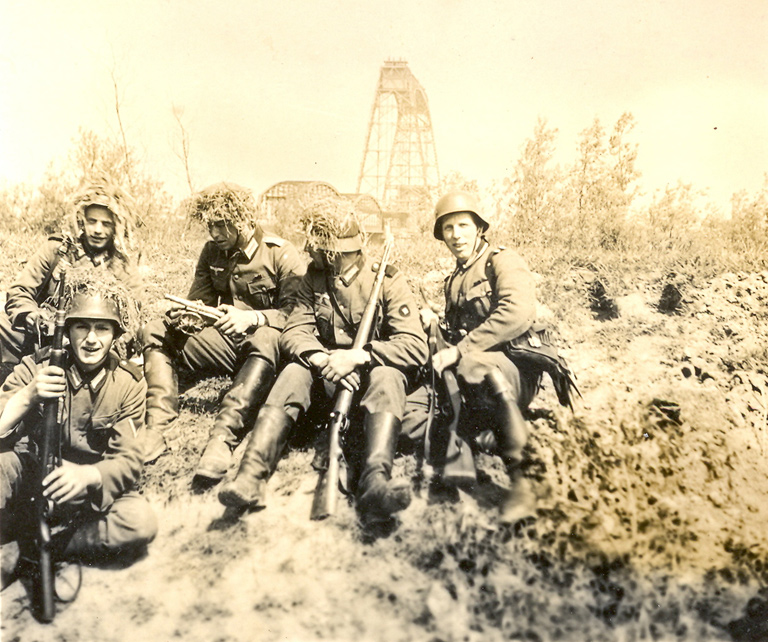 German troop at Barendrecht bridge - may 1940
During the May War two serious confrontations between the Dutch and Germans took place at the bridge of Barendrecht. This bridge was a connection between the Isle of Ysselmonde [occupied by the airbornes and airlanding troops] and the Hoekse Waard where the Dutch troops of the Kil Group occupied the shores of the Oude Maas. At the 11th a Dutch assault in this sector - performed by the 3rd Border Infantry Battalion - was rejected by the Germans.

On the 13th the Dutch on their part rejected a serious German tank assault under Leutnant Grix [I/Pz.Rgt.33], during which three out of five tanks were destroyed [two Pz.II and one Pz.III].

In the picture a German stick, with from left to right two lance-corporals [Gefreiters], a 2nd Lieutenant [Leutnant] - with a peculiar toy gun in his hands, a private 1st class [Oberschütze] and an under-sergeant [Unteroffizier]. The men are sitting on top of improvised Dutch trenches, that were dug-out during the May War. Most likely this was a scene at the 13th or 14th, when German scouts were reported crossing the bridge after the Dutch had evacuated this sector. These Germans are most likely units of the 22nd LL or 254.ID.