Enlarged picture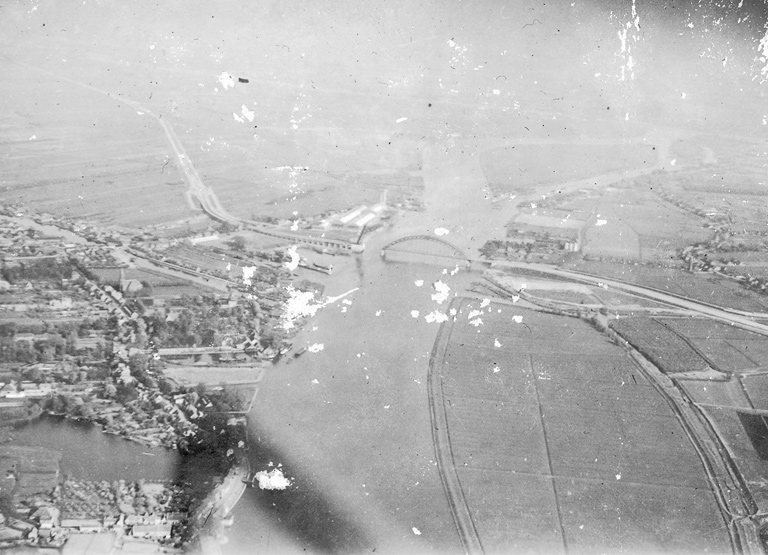 Alblasserdam bridge - may 1940
This picture of the Alblasserdam bridge was taken from a German plane, most likely a reconnaissance plane and probably on the 11th of May or later. The opened bridge is easily identified. On the left side the small town called Alblasserdam, to the right Hendrik Ido Ambacht. The city of Dordrecht is to the top side of the photo, although not visible.

General Kurt Student was unaware of this bridge at Alblasserdam, that had been put in use shortly before the war. Only late in the afternoon of the 10th his scouts warned him of the existance of this bridge. The opportunity the Dutch had to cross the water towards the Isle of Ysselmonde in the evening of the 10th, was not materialised by the hesitant commander of the Light Division.

The Dutch bridge operator had not been so hesitant as the LD commander. Upon his recognition of German airlandings to the west of Alblasserdam, the man had quickly opened the bridge and locked the device. As such German scouts [that would arrive later on the 10th] were unable to cross and hold the bridge. In stead they had little more option than to dig-in on the west end of the bridge. Until early in the morning of the 11th only a platoon of airlanding troops occupied the west end. The Light Division battalions awaited the new daylight of the 11th to attempt a crossing though, as such missing out on a window of opportunity. This was one of the major tactical misses of Dutch field commanders during the May War.