Enlarged picture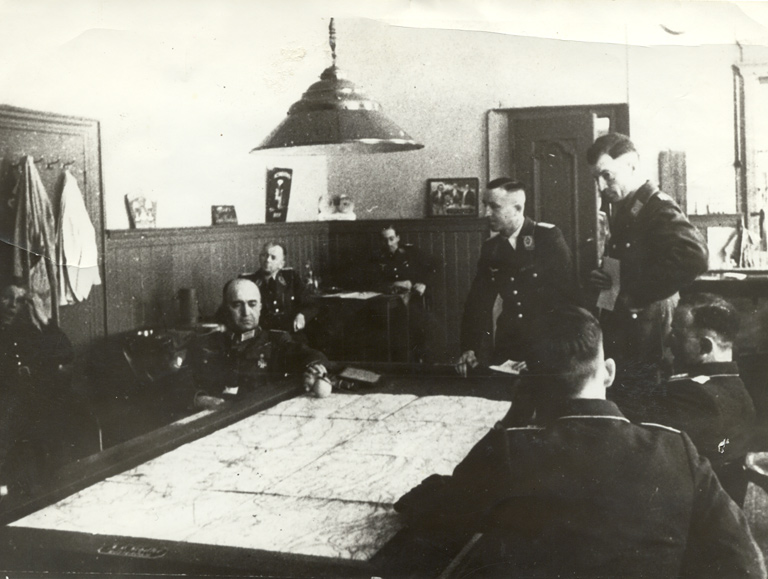 The German headquarters in Rijsoord - may 1940
In the middle [third from the left], sitting at the small table, Generalleutnant Kurt Student during a staff meeting in the billiard room of a restaurant in the village Rijsoord, NW of Zwijndrecht.

He was the Godfather of German airborne operations, and a very capable field-commander. Student got severly wounded [head-wound] at May 14, when a German bullet accidentally hit him in the head. It would take him six months to recover.

General Kurt Arthur Benno Student [1890-1978] had been a Luftwaffe pilot during WWI. In the late thirties - as a General-Major - he became the founder of the German airborne and airlanding weapon, well sponsored by Hermann Goering. Prior to the invasion of the West, Student became the commander of the 7th Flieger Korps (comprising both the 7.Fliegerdivision - paratroopers - and the 22nd Airlanding Infantry Division], in the rank of Generalleutnant [Lieutenant-General]. He planned the surprise assault on the Dutch bridges and AFB's within Fortress Holland as well as the Eben-Emael raid in Belgium.

Student himself - although commander-in-chief of the entire landing-operation - was only in direct command of the southern landing forces around Rotterdam and Dordrecht. He directed his troops from his CP which was set-up to the southeast of Rotterdam, but often visited the front himself. He took some key tactical decisions during the battle that would contribute considerably to the overall German success.

When the Dutch and Germans were negotiating the terms of capitulation of the city of Rotterdam on the 14th, a wild shoot-out occurred outside. When Student stuck his head out of the window to see what was going on, a bullet hit him in the head. This bullet was fired by a member of the SS Leibstandarte Adolf Hitler, but at that time Dutch soldiers were accussed of the event. The furious SS men rounded up all Dutch soldiers they could find, and just about at the very moment the machineguns would started rattling the life out of the innocent Dutch, a German officer intervened informing the troops that most likely one of their own bullets had knocked down the popular General. Six months later Student would been reinstated as commander-in-chief of the German airborne weapon.

During the period January 1941 - March 1944 Student remained the commanding General of the XI Fliegerkorps. During this period he was personally in charge of the Crete operations, which would seal the fate of the German airbornes (as a genuine airborne outfit) notwithstanding the final victory over the British occupation of the island.

During the Operation Market Garden, Student was in charge of the 1st Airborne Army, as Generaloberst [most senior General-rank], directly reporting to Fieldmarshall Model.

Hereafter Student's positions changed almost monthly, ending his war career as Commander-in-Chief of Army Group Weichsel - on paper that was - for Student would never actually take over.

Kurt Student was probably one of the most well-known German Generals, and highly decorated.