Enlarged picture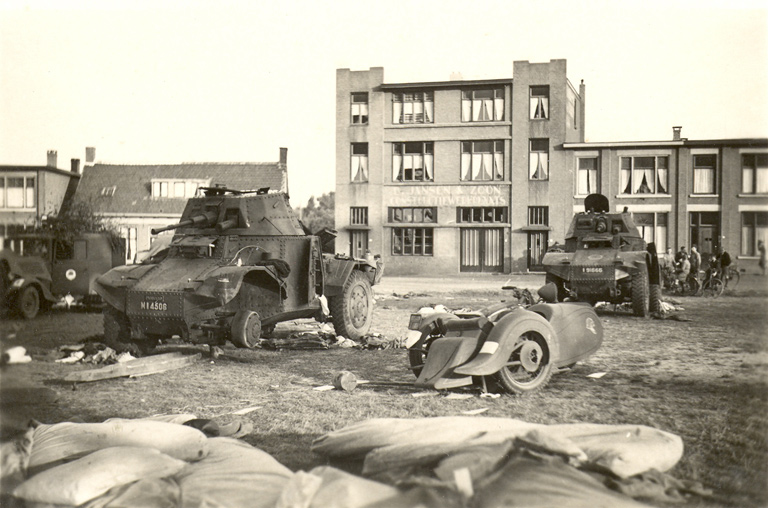 Bergen op Zoom - may 1940
This is a picture of left French material along the Glacisstraat (Erasmuslaan) near Plein 13 in Bergen op Zoom, which was close to the Antwerpse straatweg. The company in the back-ground (Jansen en Zoon) is a well-known landmark, which made it possible to identify the location. This position was near the railway station of Bergen op Zoom. Clearly in sight are two AMD-178 Panhard armoured cars and a side-car. The standard equipment of most French light cavalry and recce units.

The city of Bergen op Zoom was defended by 12.GRDI and some sub-units of 6.RC. On the 14th of May it was assaulted by German formations of SS-VT, mainly SS Regiment Deutschland. It came to some brief but quite fierce local fights between those Germans and the French defenders, but soon enough the Germans had managed to cut off the southern approaches to the city. That meant that the French were surrounded. Their commander, Major Michon (of 6.RC) did not see any chance of breaking out, although the French had quite some fire-power and light AFV's at hand. Eventually the French surrendered, including Major Michon. The same French officer that had shown reluctance to assault the German pocket at Moerdijk on the 11th.

Michon was released in 1944 as a war-invalid. He had lost his left arm during colonial wars in the north of Africa shortly after WWI and for some reason the Germans considered him unfit to perform active duties again and included him in a POW exchange. But Michon was quickly reactivated by the Free French and would serve as a lt-col (later colonel) in the French army and fight the Germans again.