Enlarged picture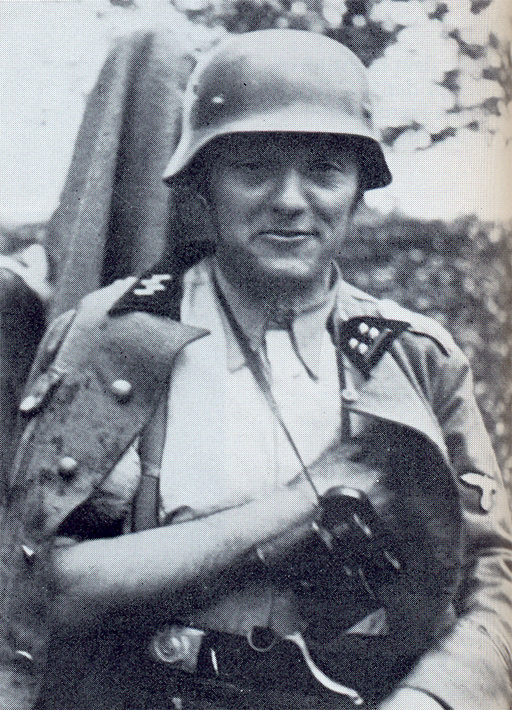 Obersturmbannführer [Lieutenant-Colonel] Hilmar Wäckerle - may 1940
This is a picture of Obersturmbannführer [Lieutenant-Colonel] Hilmar Wäckerle, the commander of the 3rd Battalion of the SS Regiment 'Der Führer', that was responsible for numerous war crimes at the Grebbeberg. The picture is taken just hours after the battle, during which Wäckerle had been hit twice [back/arm]. The photo clearly shows his bloody uniform and wounded right arm. Apart from committing warcrimes on the battlefield, the battalion operated in a very bold and brave way. They suffered lots of casualties, but reached their goals time and again.

Wäckerle himself - although a horrible nazi in heart and mind - was extremely brave and did not evade first line action. His biggest achievement was him and some of his troops breaking through the stopline-defence during the night of 12/13 May and taking a position at the railway track where his presence would be more than a nuisance to the Dutch troops. He was awarded both the [Iron Cross] EK1 and EK2 after the battle, which is quite unique.

Himmler's protégé Wäckerle had been the first SS commander of Dachau concentration camp in the early thirties. Together with Theodor Eicke - who would later become commander of the SS Totenkopf Division [operated in Belgium and France during the May war] - Wäckerle invented the 'Schule der Gewalt' ['School of violence']at Dachau. The two men had developed methods how to operate as a camp guard and how to set rule for camp management, with special attention to harsh regimes and punishment. Wäckerle would not live long. In 1941 he was promoted to Standartenführer [Colonel] and he became commander of SS Regiment Westland [part of the notorious Wiking Division], which main body was formed by [631 off] Dutch and Vlamish volunteers. Already at the 2nd of July 1941 - less than two weeks after the regiment had seen its first action - Wäckerle fell victim to a Soviet sniper.