Enlarged picture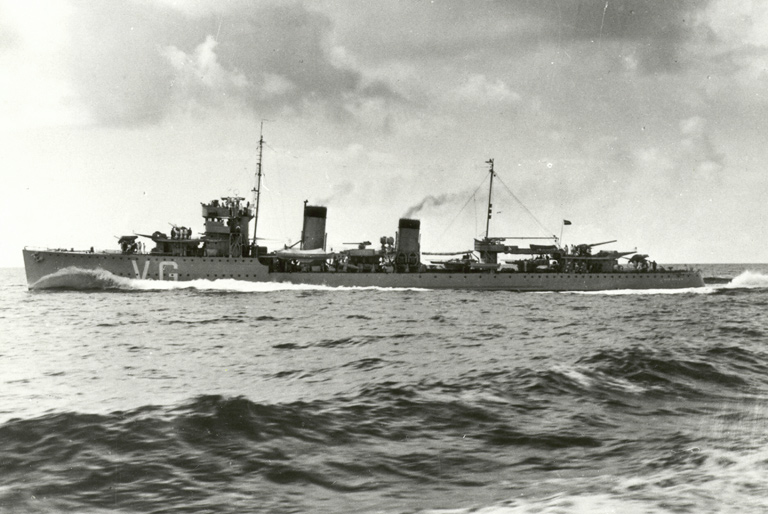 The Admiral Class destroyer HrMs Van Galen - may 1940
The destroyer HrMs Van Galen was heavily damaged by German Ju-87 Stuka's when sailing upstream the Nieuwe Waterweg near Rotterdam, on her way to a position to shell Waalhaven airfield [10 May 1940].

She eventually sunk from the sustained damage while moored along a quay in the harbour, after she had been evacuated by the surviving crew.

The HrMs Van Galen was one out of eight destroyers from this ill fated class [Van Galen, Evertsen, Piet Hein, Van Ghent, Kortenaer, Witte de With, Banckert, Van Nes]. She was equiped with a main battery of four (single) 12 cm Bofors guns, as well as an AA armament of one 7,5 cm and four (single) 4 cm Bofors guns. Also four .50 Browning AA machineguns were available.

The ships of this class had a double torpedo installation [2 x 3 off 21 inch torpedo rack]. The displacement was 1,680 BRT [loaded] and the overall length was 98,1 meter. Top speed was 34 knots. The crew comprised 149 heads.

The Admiral Class destroyers were particularly hit hard during the Battle of the Java Sea and preceding incidents [february 1942], which took place at the time the war in the Pacific [Netherlands East-Indies] raged. All remaining seven destroyers were sunk or fatally damaged in February and March 1942. The HrMs Banckert however was later raised by the Japanese and recommissioned after an overhaul. She would however never sail under Japanese flag, for her state was regarded unfit.