Enlarged picture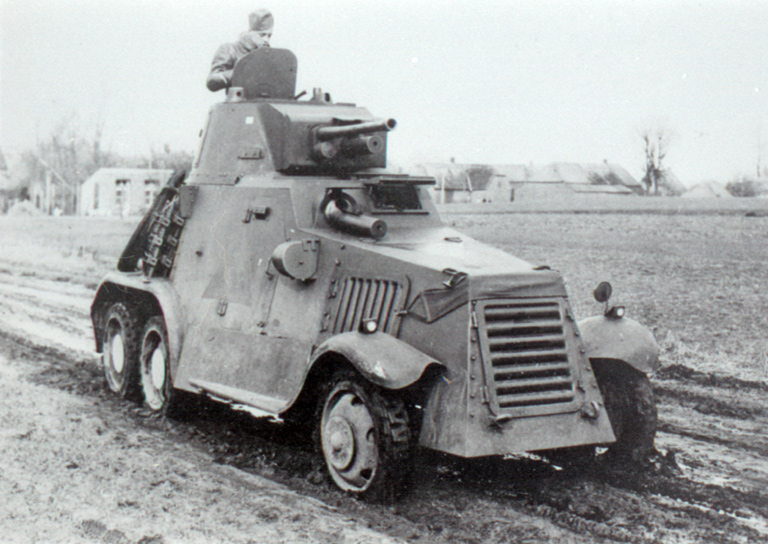 M.36 Armoured car - may 1940
Picture of an M.36 armoured car. The M.36 [Swedish L.181 Landsverk] and M.38 [L.180 Landsverk] armoured cars were - together with the Dutch DAF model M.39 - the only modern Dutch armoured cars in use in May 1940. All three those types were fitted with a powerful Bofors 37 mm AT gun and three Lewis machineguns, except for two command cars that had only three MG's.

The armour of the Swedish cars was 5-12 mm thick. The cars were equipped with dual-drive systems and capable of negotiating rough terrain.

None of the cars were lost due to German ground-fire, although some were damaged from sustained enemy fire. Where they were deployed on the battlefield, they performed surprisingly well. Particlarly at Ypenburg AFB the assistance of the armoured cars (in repelling the German air-landing) contributed much to the soon followed German defeat. The 37 mm guns destroyed many of the Ju-52's of the first wave, causing much havoc and death among the German airlanding troops.

The Germans confiscated quite a number of Dutch armoured cars. It is a known fact that a platoon of at least four M.38 and four M.39 cars served with the Aufklarungsabteilung [recce group] of the 227.ID during the years 1940-1942 in France and Russia. Also some armoured cars - M.36 - have appeared in France and Germany as policing vehicles.
Category 13 May / Armament and equipment (69 images)