Enlarged picture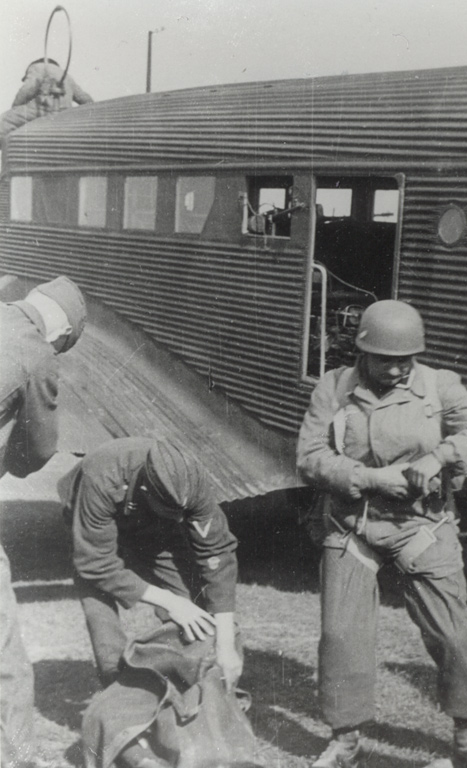 German airbornes prepare for the operations to come - may 1940
Weapons and gear were dropped separately from the airbornes, and as such they were all armed with a pistol. The separate dropped gear would pose many airbrones for quite some tricky challanges when they had hit the ground amongst warned enemies. It took often quite some time to reach and unpack the weapons and ammo, and in between the airborne was quite vulnerable.

The average airborne had only made 6-8 low altitude jumps prior to their drop over Holland. One company had not even made a single jump and was flown in as ordinary air-landing troops unit to Waalhaven AFB.

Every respective Ju-52/3m transport plane had 11-14 fully equipped airbornes on board, and two to three men Luftwaffe crew. Consequently a company had to be flown in by no less than fifteen to sixteen planes. The Germans would assign about 500 Ju-52 planes to the Dutch theatre. There are leads that indicate that even more planes were used. Eventually about 300 of these planes would be lost during the May war of which about 50% would turn out to be complete write-offs. It would take the Germans a full year to recover from this blow, when again at Krete a devastating blow was suffered amongst the slow Ju-52 fleet. The shortage of these planes after these two massive airborne operations would be hard felt when the Stalingrad Kettle had to be supplied in the winter 1942/1943. A structural shortage of Ju-52 and other air-freighters caused the 6th Army to be short-supplied as from day one. The German transport fleet would never overcome the losses of 1940 and 1941 in Holland and Crete. Other priorities in production would pose the Luftwaffe with a huge transport problem that would last throughout the entire war.