Enlarged picture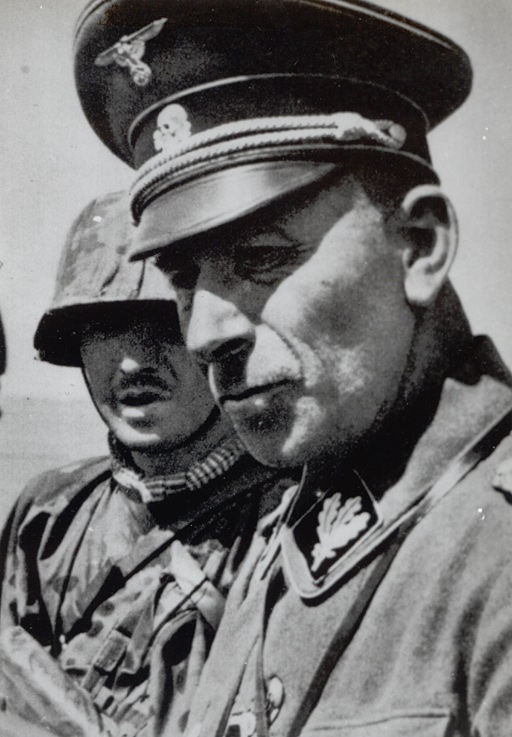 SS Gruppenführer Paul Hausser - may 1940
Commander of the 'SS Verfügungsdivision' [composed of the Leibstandarte Adolf Hitler, Standarte Germania, Standarte Deutschland and some miscellaneous support units] in May 1940, SS Gruppenführer Paul Hausser [1880-1972], former General in the regular army. Note: the picture shows Hausser in the rank of SS Brigadeführer.

Already in 1932 Hausser was Generalleutnant in the regular army, and a decorated WWI veteran. He joint the SA, and later became the inspector of the SS-Junkerschule in the SS rank of SS-Brigadefuhrer. Hausser became one of the most important advisors when the SS Verfugungstruppen [later known as the Waffen SS] were founded.

Hausser became commander of the SS Verfugungsdivision - that was the first SS Division. This division was later baptised "Das Reich". In 1943 he was severly wounded [lost an eye] but was rewarded the Oak Leave and Swords for his diligent services. During the battles of Kharkov and Kursk - severe German-Russo battles - he was in command of Das Reich, der Leibstandarte and the Totenkopf Division [IInd SS Panzer Corps]. In 1944 he was in France and was promoted to commander of 7th Army. During the Falaise battle he was again severly wounded [yaw busted] but he escaped the encirclement.

He ended the war in the rank of Oberstgruppenführer [highest SS rank below Reichsführer] in the staff of Kesselring in Italy.