Enlarged picture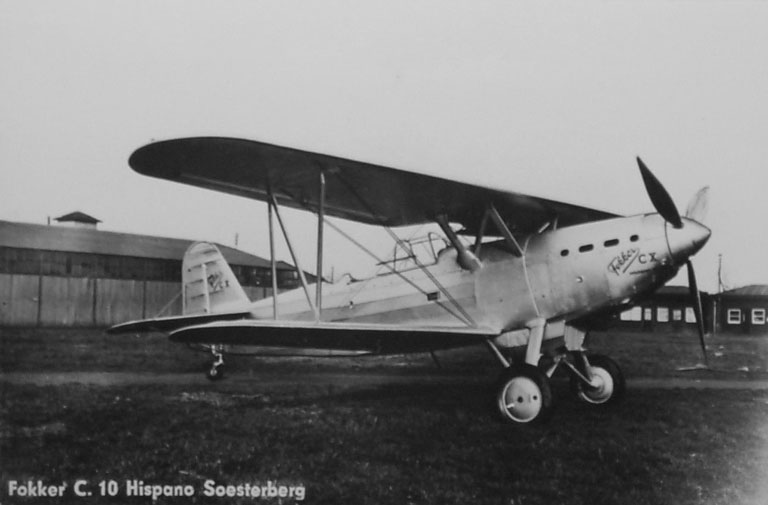 Fokker C-X - may 1940
The Fokker C-X was of the last generation of military bi-planes that was designed and constructed [1927] by Fokker. The Dutch airforce only procured this type in 1935.

In May 1940 the design was rather old but not yet obsolete. The C-X proved quite effective as a light strike plane and only a few fell victim to Luftwaffe predators. The plane was capable of delivering 8 bombs of 50 kg and had two machineguns as armament. It was capable of a maximum speed of 320 km/hr.

The C-X proved itself remarkably resilient during the May War. There were 16 off operational in the Netherlands Airforce (of 68 constructed, also for the NEI airforce as well as the Spanish and Finnish airforces). The airplane was highly manoeuvrable, remained quite capable with the full 400 kg bomb load attached and was an efficient light strike platform. It was much used during the May War, although a mysterious order caused one C-X squadron to be grounded during the entire second day of the war. Nonetheless, C-X strike planes bombed several locations within the Fortress Holland (Waalhaven, Valkenburg, Rotterdam), the German position Moerdijk and struck twice against German artillery opposing the Grebbeberg defences. Also quite a considerable number of recce flights were made with this type. Only very few were lost during the many operational sorties flown.
Category 13 May / Armament and equipment (69 images)