Enlarged picture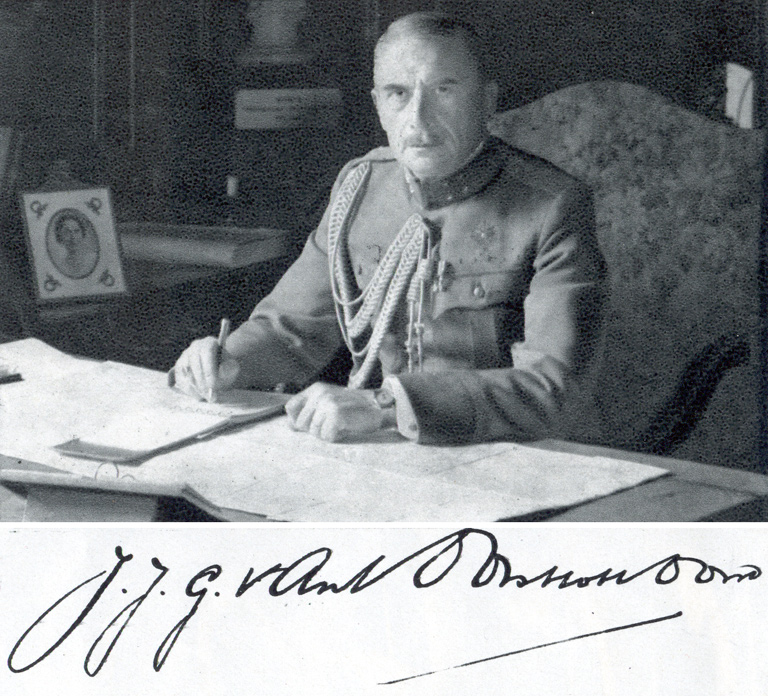 Lieutenant-General Baron J.J.G. van Voorst tot Voorst - Commander Field Army - may 1940
Commander Field Army. Lieutenant-General Baron Jan Joseph Godfried van Voorst tot Voorst [1880 - 1963] was a noble man who managed to climb the military ladder almost to the highest step. He became commander of the Field Army in 1937, the second most important position next to Chief of Staff.

The Field Army comprised more than half the Dutch army forces, which was in May 1940 comprising three Army Corps's, two Brigades, the Peel division, the Light Division, six Cavalry regiments and about 15 Border Infantry battalions.

Van Voorst tot Voorst had two brothers and a full cousin in the armed forces in May 1940, who were also in senior positions in May 1940. His younger brother Major-General Baron Herman Franciscus Maria was the Chief-of-Staff of the army. His cousin was commander of the garisson in Utrecht.

The General became a POW and was enprisoned in the company of other Generals in Germany, Austria and Poland during the entire war. After 1945 he chaired many commissions evaluating several topics of the war on Dutch soil.

The General received his honrouble discharge from the military service in 1945.